TCCH News and Upcoming Events
August 18, 2021
Community Partnership School at Dodgertown Elementary is first of its kind in IRC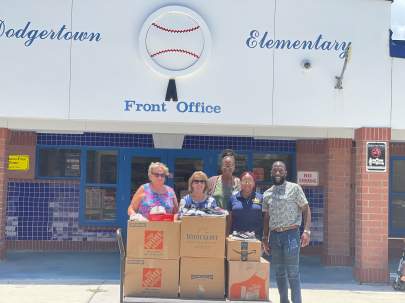 Imagine you are seven years old, have a toothache or shoes two sizes too small. You try to focus but you are in pain and cannot do anything about it. Today includes a very important test that you need to do well on to advance to the next grade. Your parents are already working hard and sometimes let you finish their meal because you are still hungry. It is your turn to help the family by succeeding in school. But your tooth hurts. No matter what you do, the blister still grows on your foot. The very important test becomes a struggle, your shoulders slump. You know you did not do your best.
Eighty-three percent of Dodgertown Elementary's student population lives below the Federal Poverty Level. Treasure Coast Community Health (TCCH) understands that poverty is an extreme condition, affecting the entire family. Children who experience poverty do not always have access to timely healthcare, including annual physicals and immunizations. Parents want the best for their children and sometimes need extra help securing resources.
TCCH joined forces with Dodgertown Elementary, Children's Home Society of Florida, Indian River School District and Indian River State College to create Dodgertown Elementary, A Community Partnership School — the first of its kind in Indian River County and one of only 20 in the state of Florida. "The resources TCCH can offer – doctors, dentists, optometrists, health navigators and transportation will support better health for children at Dodgertown. This partnership aligns with our mission of healthcare for all so we are very happy to be a part of the solution," TCCH CEO Vicki Soulé said.
A Community Partnership School increases graduation rate, student achievement, teacher retention, attendance, parent involvement and community support. "We know that children bring more than their book bags to school. If a child's tooth is hurting or they can't see, then they are not developing at their full potential. They have barriers that they are unable to talk about or they have to go through. If there's a need, you can't learn," Director of Dodgertown, A Community Partnership School, Gerrod Miller, who started with the program in February of 2021, said.
The on-campus "hub" provides students with multiple opportunities for leadership, cultural enrichment, after schools activates, tutoring and mentoring. "Studies show that many children in poverty struggle academically and are five times more likely to drop out of high school, so in elementary we are able to catch them when they are very young," Miller said. Students who need vision, dental, behavioral and medical health care can be transported to TCCH locations. "TCCH has processes in place to reduce barriers to care for students and families, increasing the amount of 'butts in chairs' learning time. This includes telehealth, with a link for parents, and face to face visits which are essential to early grade success," Soulé said. There is also a nonperishable on-site food pantry and clothes closet providing uniforms, shoes, socks and underwear. English as a second language courses and GED programs are available through Indian River State College for parents.
Along with the five core partners, other organizations also contribute to the success of these children, including Gifford Youth Achievement Center, Crossover Mission, Moonshot Moment, Treasure Coast Food Bank, The United Way, United Against Poverty, First Presbyterian Church in Vero Beach and Lakes at Waterway Village.
As of February 2020, Miller and his team have served 23 families and 38 students. If you want to donate, stop in at the Dodgertown Elementary main office, contact Earldesha Crosdale, Family and Community Engagement Coordinator, at 772-469-6677 or earldesha.crosdale@chsfl.orgor Miller at 772-480-4456 or gerrod.miller@chsfl.org. You can reach TCCH Wellness Coordinator LaDonna Corbin at lcorbin@tcchinc.org.
Specific items you can donate include:
• Uniforms, shoes, belts, socks and underwear
• School supplies, book bags and books
• Nonperishable food and UAP grocery vouchers
Photo provided by Dodgertown Elementary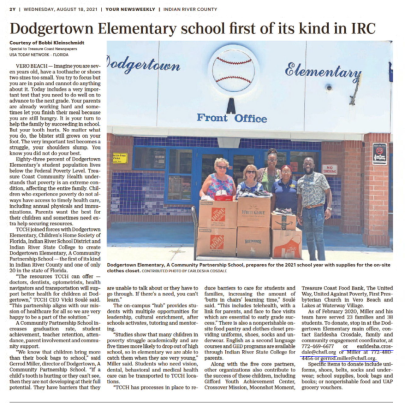 August 18, 2021
TCCH extends COVID-19 vaccinations, adds testing for students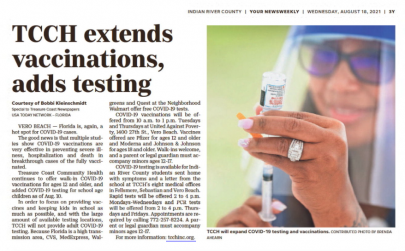 Florida is, again, a hot spot for COVID-19 cases. The good news is multiple studies show COVID-19 vaccinations are very effective in preventing severe illness, hospitalization and death in breakthrough cases of the fully vaccinated.
TCCH continues to offer walk-in COVID-19 vaccinations for age 12 and older, and adds COVID-19 testing for school age children beginning August 10.
In order to focus on providing vaccines and keeping kids in school as much as possible, and with the large amount of available testing locations, TCCH will NOT provide Adult COVID-19 testing. Because Florida is a high transmission area, CVS, MedExpress, Walgreens and Quest at the Neighborhood Walmart offer free COVID-19 tests.
COVID-19 Vaccinations
• United Against Poverty (UAP), 1400 27th St., Vero Beach, FL
• Tuesdays and Thursdays from 10 am – 1 pm
• Pfizer (age 12+), Moderna (age 18+) and J&J (age 18+)
• Walk-ins welcome
• A parent or legal guardian must accompany minors age 12-17
COVID-19 Testing
• Indian River County students
• Sent home with symptoms and a letter from the school
• TCCH's eight medical offices in Fellsmere, Sebastian and Vero Beach
• Monday, Tuesday and Wednesday, 2 – 4 pm, Rapid Test
• Thursday and Friday, 2 – 4 pm, PCR test
• Appointments required, call 772-257-8224
• A parent or legal guardian must accompany minors age 12-17
August 16, 2021
Nicholson, Bradley and Shelly Join TCCH Governing Board of Directors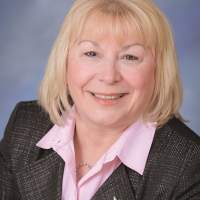 Tina Nicholson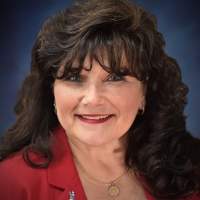 Brenda Bradley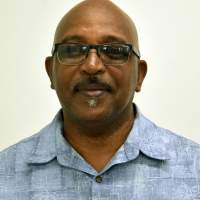 Rev William Shelly
Treasure Coast Community Health (TCCH) welcomes Brenda Bradley, Tina Nicholson and Reverend William Shelly to their Governing Board of Directors, effective April 26, 2021.
"I am pleased to welcome our newest board members. Their expertise and guidance in finance, fundraising, leadership and customer service will be valuable tools as TCCH continues to provide our patients the most comprehensive and affordable primary care in Indian River County. They believe in our mission and will be strong voices in safeguarding healthcare for all," TCCH Board Chairperson Elisa Sielinski said.
TCCH is a Federally Qualified Health Center, which means at least 51% of an FQHC's Board members must use TCCH services. The volunteer Board meets monthly and it is responsible for a variety of areas, including:
Legal and fiduciary oversight for TCCH operations and grants
Strategic planning and evaluation of progress
Approve Annual Budget & Grant Application
Full authority over all aspects of TCCH operations
Brenda Bradley has 22 years of banking experience, specializing in internal audit, operations and customer service. She also spent 21 years at the Indian River County Tax Collector's Office as the Bankruptcy and Collections Supervisor and the Chief of Staff/Director of Operations. Bradley is actively involved in a variety of local service groups and fundraising efforts, and received multiple professional achievement and community awards.
Tina Nicholson has 32 years in the banking industry includes developing business opportunities, supervising and coaching team members at various levels and sales strategy. She is a board member on numerous community service groups sharing her extensive leadership and financial experience.
Reverend William Shelly served in the United States Army, retired from the United States Post Office after 25 years of service and is now in his eleventh year as a Pastor. He has raised funds for local baseball teams and sport fields, sidewalks for children to safety walk to school and serves on a diverse group of local and civic-minded organizations. He has received numerous awards for his efforts in economic development and community service.
Elisa Sielinski, Migdalia Rodriguez-McDonald, Cheryl Michel, Vera Smith, Revis "Buddy" Akers, Wilfred Hart, Debra Jackson Hester, Francisco Magna, Judi Miller, Jim Parla, Ed. D. and Ernestine Webb Williams are returning board members.
July 28, 2021
It's time for Back to School Physicals and Immunizations"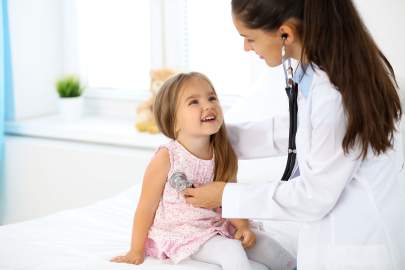 This very important appointment verifies your child is growing and developing according to their age. It's the perfect time to get up to date on potential life saving vaccinations. Call 772-257-8224 to schedule an appointment.
Convenient Saturday times are available.
Oslo: July 31, August 7 and 14 from 8 am – 5 pm
Fellsmere: July 31, August 7 and 14 from 8 am – 5 pm
Gifford: August 7 and 14 from 8 am – 5 pm
July 24, 2021
Pay if forward to save lives with TCCH's "The Great Duck Derby"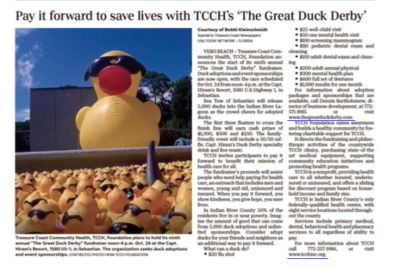 Treasure Coast Community Health, TCCH, Foundation announces the start of its ninth annual 'The Great Duck Derby' fundraiser. Duck adoptions and event sponsorships are now open, with the race scheduled for Oct. 24 from noon-4 p.m. at the Capt. Hiram's Resort, 1580 U.S.Highway 1, in Sebastian.
Visit https://treasurecoast-fl.newsmemory.com/ to read more.
July 14, 2021
As we return to normal, thank the helpers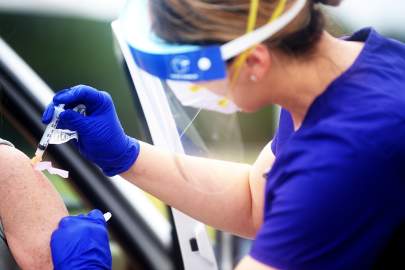 Treasure Coast Community Health (TCCH) serves 25,000 patients with primary medical, dental, behavioral and pharmaceutical care at eight locations. As the only Federally Qualified Health Center in Indian River County, no one is turned away - we believe in Healthcare For All, accepting most insurances and the uninsured. Staff and volunteers are deeply committed to improving the health of the community. This intensified on day one of the COVID-19 pandemic. Photo by Brenda Ahearn
Visit http://verobeachflash.com/ to subscribe to the Vero Beach Flash newsletter.
Seventy-five volunteers gave their time scheduling appointments, answering questions and quelling fears in the call center. At vaccination sites, they assisted with paperwork and traffic, verified I.D.s and observed people after the shot. Their service allowed TCCH professional staff to administer vaccines while other staff continued aiding patients in the health centers.
.
While volunteers filled new responsibilities, paid staff took on a tremendous amount of extra work to make COVID-19 testing and vaccination events possible. Many worked 60-70 hours in normal 40-hour shifts. They gave time setting up and tearing down events. Managers oversaw health centers via phone and they sacrificed family time.
.
The hard work paid off. To date, 15,000 people received 23,500 vaccines through TCCH.
.
Director of Operations Steve Hellyer said if he had to go through this experience again, he would go with the exact same team. "I want warriors. Everybody wants to be a warrior until it's time to do warrior stuff and then they get scared. The warriors are the ones I want to have my back." www.tcchinc.org
July 14, 2021
Dyer Difference Award supports 'fur and family health'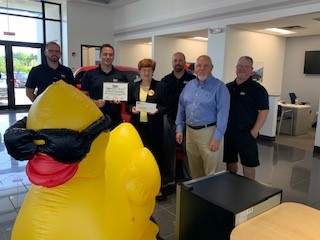 Visit https://www.tcpalm.com/ to read more.
July 5, 2021
Volunteers were key component in war against COVID-19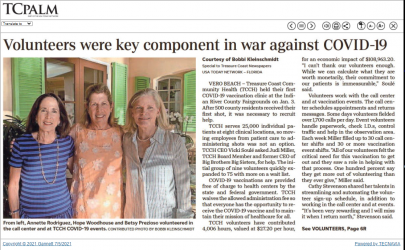 Treasure Coast Community Health (TCCH) held their first COVID-19 vaccination clinic at the Indian River County Fairgrounds on January 3, 2021. After 500 county residents received their first shot, it was necessary to recruit help.
TCCH serves 25,000 individual patients at eight clinical locations, so moving employees from patient care to administering shots was not an option. TCCH CEO Vicki Soulé asked Judi Miller, TCCH Board Member and former CEO of Big Brothers Big Sisters, for help. The initial group of nine volunteers quickly expanded to 75 with more on a wait list.
COVID-19 vaccinations are provided free of charge to health centers by the state and federal government. TCCH waives the allowed administration fee so that everyone has the opportunity to receive the COVID-19 vaccine and to maintain their mission of healthcare for all.
TCCH volunteers have contributed 4,006 hours, valued at $27.20 per hour, for an economic impact of $108,963.20. "I can't thank our volunteers enough. While we can calculate what they are worth monetarily, their commitment to our patients is immeasurable," Soulé said.
Volunteers work with the call center and at vaccination events. The call center schedules appointments and returns messages. Some days volunteers fielded over 1,700 calls per day. Event volunteers handle paper work, check I.D.s, control traffic and help in the observation area. Each week Miller filled up to 30 call center shifts and 30 or more vaccination event shifts.
"All of our volunteers felt the critical need for this vaccination to get out and they saw a role in helping with that process. One hundred percent say they get more out of volunteering than they ever give," Miller said.
Cathy Stevenson shared her talents in streamlining and automating the volunteer sign-up schedule, in addition to working in the call center and at events. "It's been very rewarding and I will miss it when I return north," Stevenson said.
TCCH volunteer John Grossweiler, feels he is helping fight a war against the pandemic and adding purpose to life. His roles include traffic control and the observation area. "Everybody is just so intensely dedicated to the project," he said. Grossweiler describes his experience as refreshing and enjoys see people coming together to help others.
Hope Woodhouse brought her mom to be vaccinated and asked about volunteering. She too saw the pandemic as a war. Because she would be working closely with patients, Hope, as with all volunteers, received the COVID-19 vaccine, "I didn't expect to get the vaccine. I felt I had to pay it back."
"Our volunteers didn't know much about TCCH to begin with which is interesting. It has introduced our community health center to the community in a very personal, engaged way, which you just can't beat," Miller said. TCCH staff and volunteers were able to know Indian River County in a new way. They humbly accepted patients' gratitude. They saw rich and poor. They helped fellow human beings from all walks of life, each desiring hope for the future.
July 5, 2021
Pay It Forward to Save Lives with TCCH's The Great Duck Derby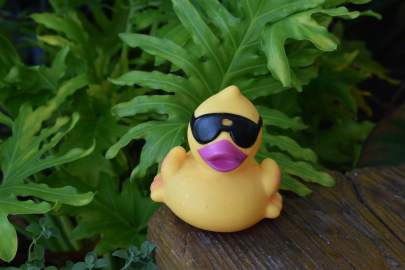 Treasure Coast Community Health (TCCH) Foundation announces the start of its 9th annual The Great Duck Derby fundraiser. Duck adoptions and event sponsorships are now open, with the race scheduled for October 24 from Noon to 4 pm at Capt Hiram's Resort.
This year, TCCH is encouraging everyone to pay it forward to benefit their mission of healthcare for all. Duck adoptions and event sponsorship proceeds assist people who need help paying for their health care. This includes men and women, young and old, uninsured and insured. When you pay it forward, you show kindness, you give hope, you save lives.
Fifty percent of Indian River County residents live in or near poverty. Imagine the amount of good that can come from 5,000 duck adoptions and unlimited sponsorships. Consider adopting ducks for your friends and neighbors as an additional way to pay it forward.
What can a duck do?
$20 flu shot
$25 well-child visit
$50 one mental health visit
$100 screening mammogram
$110 pediatric dental exam and cleaning
$150 adult dental exam and cleaning
$200 adult annual physical
$300 mental health plan
$600 full set of dentures
$1,000 insulin for one month
A variety of adoption packages and sponsorships are available for at www.thegreatduckderby.com or, call Dennis Bartholomew, TCCH Director of Business Development, at 772-571-7985 for more information.
June 17, 2021
Teen encouraging those attending Juneteenth events in Gifford to get COVID-19 vaccinations on site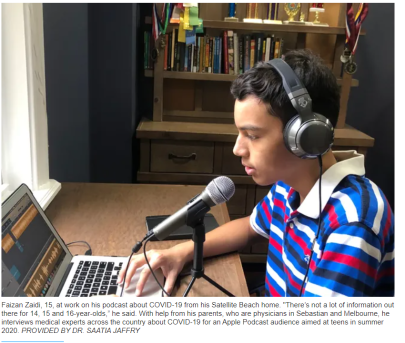 GIFFORD — A 16-year-old who has a podcast about the COVID-19 pandemic is encouraging other young people to get a coronavirus vaccination during this year's Juneteenth celebration.
Faizan Zaidi has been recording his podcast "Infectious — Your Guide to Life During the Coronavirus" for more than a year and decided to team up with the Gifford Youth Achievement Center and Treasure Coast Community Health to arrange availability of free COVID-19 vaccinations during the event June 19 from 10 a.m. to 2 p.m. in Gifford Park adjacent to the youth center.
Visit https://www.tcpalm.com/ to read more.
June 15, 2021
TCCH Awarded Dyer Difference Award for $3,000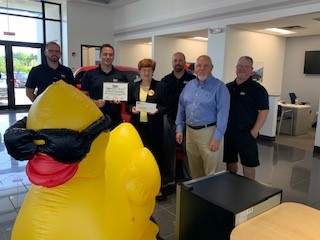 Dyer Chevrolet, Vero Beach, awarded Treasure Coast Community Health (TCCH) with a $3,000 Dyer Difference Award toward the organization's 9th annual The Great Duck Derby; the 2021 theme is Pay It Forward. Dyer Chevrolet is starting the Derby fundraising season off with a generous gift and paying forward their commitment to local communities.
The Dyer Difference Award was created to help build a strong and caring community and to recognize nonprofit organizations who mission is to help the communities in which the Dyer dealerships are located. "We want to make an impact in the community and try to help everyone. [TCCH's Duck Derby] is for medical assistance and this is our way to help kids and the community in need," Ilaina Lutz, Dyer public relations, said.
The Great Duck Derby raises funds for the TCCH Foundation with proceeds ensuring the health of Indian River County. The Foundation supports TCCH with state-of-the art medical equipment, supporting community education initiatives, promoting health programs and assisting patients with financial needs. Dyer Chevrolet has pledged to partner with TCCH in an upcoming Duck Derby contest – stay tuned for more details.
TCCH CEO Vicki Soule' and Business Development Director Dennis Bartholomew accept the Dyer Difference Award. L-R: Carl Fountain, Jonathan Hardie, Vicki Soule' Ben Williams, Dennis Bartholomew, Wayne Borchardt
June 2, 2021
John's Island Foundation Grants $40,105 for TCCH Maintenance Van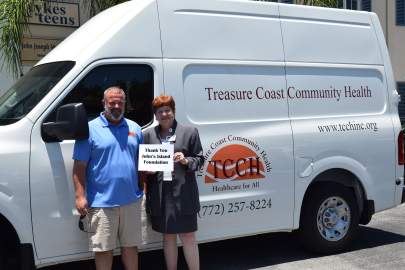 John's Island Foundation awarded Treasure Coast Community Health (TCCH) a $40,105 grant for a Sprinter class maintenance van outfitted with tool and equipment storage, a trailer hitch and two utility carts. The van has a high interior and long wheelbase to accommodate equipment needs.
Due to tremendous growth over the past 10 years, TCCH has expanded to nine locations, eight medical, including three dental and one administrative. In order to keep costs under control and still provide exceptional, affordable patient care, the ability to transport medical equipment and supplies, along with maintenance equipment from location to location is critical. The van will also transport supplies for community health fairs and outreach programs.
The TCCH dental program for local elementary schools is an excellent example of an outreach program that benefits from a maintenance van. TCCH dental technicians travel to the schools with the necessary equipment and provide dental screenings, sealants and fluoride treatments to third and fifth grade students.
The ability to maintain facilities and transport medical equipment efficiently supports the TCCH mission of healthcare for all.
April 10, 2021
TCCH Now Accepts Freedom Health: Complete Primary Care for Medicare Participants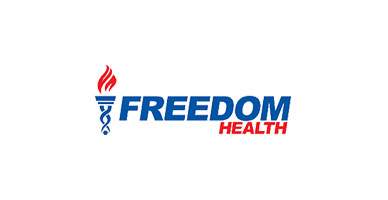 Treasure Coast Community Health (TCCH) now accepts Freedom Health Medicare Advantage Plans.
Medicare Advantage Plans work in conjunction with Medicare Parts A, B, C and D. This means consolidated bills, low premiums and co-pays, along with dental and vision care. Read more.
TCCH is a one-stop medical facility for primary medical, dental and behavioral healthcare. The partnership between TCCH and Freedom Health allows qualifying Indian River County residents additional primary health care options at eight convenient locations, including waving the Medicare deductible.
TCCH is committed to delivering exceptional primary care and support services to educate and promote positive lifestyles, eliminate healthcare disparities and improve the quality of life in Indian River County. Working with Freedom Health simply means TCCH can offer more services to more people and continue to promote our mission of Healthcare for all.
March 30, 2021
Residents aged 16-39 get vaccinated in first few days of eligibility in Florida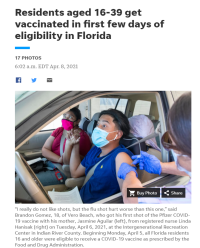 Treasure Coast Community Health continues to provide COVID-19 vaccinations to Indian River County residents at the Intergenerational Center. View 17 images of individuals protecting themselves and others.
Visit https://www.tcpalm.com/ to read more.
March 30, 2021
If you're like me, make 'right' decision before getting stuck with COVID vaccine | Opinion
Laurence Reisman Treasure Coast Newspapers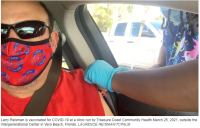 Like me, Anderson thought TCCH's vaccine process was amazingly smooth. And, like every other person I know who has been vaccinated has said, they meet some really nice, selfless folks. I was in and out in 30 minutes. It was faster than most visits to the doctor's office.
I want to be part of the effort to rid the world of this novel coronavirus so everyone can feel safe, fewer people get sick, even less end up in the hospital and almost no one — even the elderly — dies prematurely (33,178 Floridians; 280 in Indian River County as of Sunday)."
Visit https://www.tcpalm.com/ to read more.
March 23, 2021
JICSL Grants TCCH Women's Preventative Health Services Program $35,000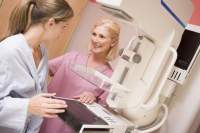 John's Island Community Service league awarded Treasure Coast Community Health (TCCH) a $35,000 grant for their Women's Preventative Health Service Program.
The TCCH Women's Preventative Health Service Program pays for pap smears, mammogram, diagnostic mammograms, ultrasounds, biopsy and additional testing and services if needed for qualifying Indian River County patients. Currently, no other health care organization in Indian River County is providing funding for early detection, screening, treatment, and care for underinsured and uninsured patients.
A cancer diagnosis, especially a breast or cervical cancer diagnosis, can strike fear in any woman. Behind heart disease, cancer is the second leading cause of death in women in the US. TCCH recognizes the risks associated with non-compliance and realizes that a woman, in most cases, will defer her own health care in order to provide for her children. Deferring care could simply mean not having the money for an annual well-woman exam, pap screen, a baseline mammogram, or follow-up after an exam. It is for this reason that TCCH created its own Women's Preventative Health Services program.
The TCCH Healthcare Home model requires providers ask patients, even if not seen for a well-women exam, the date of their last mammogram and pap smear. Women, whose routine preventive care is not up to date due to financial concerns, are referred to a Health Navigator. Program activities start with determining a woman's eligibility to receive program services. If eligible, patients are educated and counseled on the importance of and receive a screening appointment. If necessary, further diagnostic testing is provided until a diagnosis can be determined.
Approximately 300 women can receive this potential live-saving service through the TCCH Women's Preventative Health Services Program. A full breast diagnosis can cost up to $2,000 and available resources ultimately drive program capacity; therefore, TCCH carries a wait list of names while securing funding.
---
The TCCH Foundation raises awareness and builds a healthy community by fostering charitable support for TCCH. The TCCH Foundation directs the fundraising and philanthropic activities of the countywide TCCH clinics, purchasing state-of-the art medical equipment, supporting community education initiatives, and promoting health programs. The Foundation is committed to ensuring a healthy future for the people of Indian River County.
March 19, 2021
Vicki Soulé, FACHC Chair, Champions Health Care on Local, State Level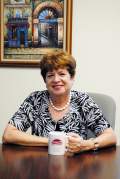 Vicki Soulé, Treasure Coast Community Health (TCCH) CEO, has been a leading health care advocate in Indian River County for 20 years. She began her career as a Medical Technologist, B.S., ASCP, and is in her 13th year at TCCH.
As CEO, Soulé oversees eight clinical locations and best medical practices to serve people of all ages and socioeconomic groups. She is a well know defender of affordable, accessible, and comprehensive health care for all. In fact, Soulé's influence in the health care industry stretches beyond Indian River County to state and national levels as the voluntary Chair of the Florida Association of Community Health Centers (FACHC) Board of Directors.
FACHC is a nonprofit, 45 member driven association of community health centers (CHCs) in Florida. FACHC's main function is to educate, not lobby, legislature on the impact of bills and rules they are considering that affect CHCs. Each state then has representation and advocacy through the National Association of Community Health Centers.
A main benefit of FACHC is, "CHCs don't have to constantly reinvent the wheel. We can share good ideas, best practices, things that aren't going well, and most especially we can come together with common interests and concerns to make changes, not individually, but as a group of service providers within the state," Soulé said. This membership, in turn, provides Indian River County with credible, timely and useful information on local, state, and national levels.
CHC origins date back to 1965 as part of President Johnson's Office of Economic Opportunity to fight poverty and improve the health care of underserved populations. "Community Health Centers were modeled from African tribes. It takes a village to raise a child. It's not an individual effort. [CHCs] have the same philosophy, that as a team we will take care of the healthcare needs of those least likely to get it," Soulé said.
All CHCs carry the same mission: to improve access to quality health services by bringing together agencies, legislators, and key persons able to affect healthcare services. "How each one carries out this mission varies from center to center because the whole premise of a community health center is responding to local needs," Soulé said. All CHCs deliver medical, dental, and behavioral health care, yet some may specialize in necessary local services such as pregnancy or in-house pharmacies.
What's the key take away for Indian River County residents? TCCH is the only CHC in Indian River County. As a CHC, the majority of individuals serving on the Board of Directors must be health center patients representing the population served. This means Soulé and the TCCH Board are not only your friends and neighbors — they are your healthcare champions. "Our Board always says, 'you can't judge a book by it's cover.' There are plenty of people who appear to have the wherewithal to go to private practice and don't or can't," Soulé said.
The most important and differentiating factor about CHCs is, "We elevate all of our techniques and processes to the highest level in healthcare for all so everyone, regardless, and it's not just regardless if you're poor. It is regardless of wherever you are in your life: young, old, rich, poor, black, white, or purple. You can feel welcome, and it's not a question of well you're lucky you're getting anything. We're going to give you top-notch service regardless," Soulé said.
March 19, 2021
COVID-19 vaccinations mean an end to isolation and a return to loved ones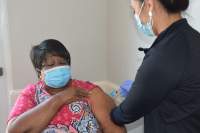 Love makes the world go around. It certainly motivates people to get their COVID-19 vaccination.
Treasure Coast Community Health (TCCH) held COVID-19 vaccination events at Regency Park, The Salvation Army and TCCH's 787 Medical Office on March 13, 2021. These events targeted 262 underserved individuals and those meeting Governor DeSantis' mandates.
Jason Frandsen, Executive Director of Regency Park, and Kayla Moore, Salvation Army Program Coordinator of Social Services, point to safety, depression and anxiety as reasons they joined forces with TCCH. "[This event is] a huge sense of relief and assurance that they are finally getting the vaccine so they can be protected during this pandemic. We're excited to return back to normal and get our residents out and enjoying their time here," Jason said. For Kayla, vaccinations mean a return of volunteers, "[Our volunteers] are thrilled to be back which mean we can accomplish more when we have more people here to help."
It is true that safety, depression and anxiety are very real reasons to be vaccinated. However, it is ultimately an end to isolation and a return to loved ones that motivates most of us to stand in line for a shot in the arm.
Anticipation and hope were in abundance as people, some who have not seen their loved ones in over a year, received a vaccine. Many have isolated themselves completely, other than the bare necessities, from family and friends. The vaccine will provide Jose face-to-face contact with children and grandchildren that he is longing to see. The majority of Jose's large family lives in Florida yet their main contact is through Zoom – it is just not the same. He feels fantastic about getting the vaccine, and said, "The amount of stress of hearing about people dying every day, it gets to you. You get very depressed. Is it my turn coming next? I'll still wear my mask. That's not a problem with me because it protects me and the other person too."
Carmen and Emily are Barbara's caretakers. All three have isolated as much as possible for Barbara's health. Barbara has not seen her three children who live out of state during the entire pandemic. Fear of infecting their mom keeps them at bay. Carmen hurries through grocery shopping during off hours to avoid crowds. To keep Barbara safe, Emily also foregoes seeing family and keeps her children isolated as much as possible. "We all stay at home and try to find things to do and not go out. It's hard on my kids. They go crazy," Emily said. All three agree they will remain vigilant with masks and social distancing while eagerly expanding their social lives
Paul and his daughter Emily received shots to protect Emily's grandmother; they both act as her caretakers. Paul has isolated himself for a year to shield his love ones, "There will definitely be some relief there. That's what I'm looking forward to." Emily, relieved to protect herself and the seniors she provides direct care for, is most looking forward to her grandma and daughter being able to spending time together. "It will be nice for me to bring [my daughter] to the park to play with her great granddaughter or take her to get ice cream because she hasn't been able to get out at all in the last year," Emily said, which also means brighter days with her grandmother's mental health.
For some, like Constance, daily life will continue as normal with a promise to see loved ones living out of reach. Since the pandemic started, she still ran errands and saw a select group of local, quarantined friends. However, travel beyond Vero Beach kept Constance from seeing her son in Tampa and sister in Texas. After her second shot on April 9, Constance is planning to see family, "I've been sending [my sister] cards and letters and gifts. I haven't seen her in a year. I will also be able to see my son for his birthday on April 21."
And, with all things new, some individuals would rather opt-out. Daniel, an 88-year-old Marine veteran, did not want the vaccination. "I've spent many years in the Marine Corp. I don't need a shot," he said. His wife, Patricia had open-heart surgery within the last year, which meant extreme isolation. Their daughter, Norah, who dislikes shots of all kinds, recently became Patricia's full time caregiver. All three received the shot. For Patricia, this means a return to gathering with family and friends. Norah will remain cautious but knows, "we are probably safer now." And Daniel… he was vaccinated because he loves his wife. "I'm very protective of her," he said.
It is critical that healthcare organizations continue to form community partnerships to best serve those who are especially vulnerable to COVID-19. As a result, everyone feels safer and that is what matters. When safety replaces fear, lives start to become normal again, and that is why TCCH's mission of Healthcare For All is so important.
March 18, 2021
Second dose of COVID-19 vaccines given to Fellsmere locals by Treasure Coast Community Health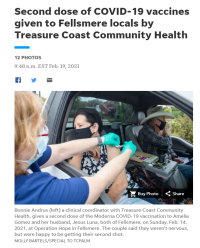 Visit https://www.tcpalm.com/ to read more.
March 18, 2021
Treasure Coast provider has plenty of COVID vaccines for now; it just needs arms | Opinion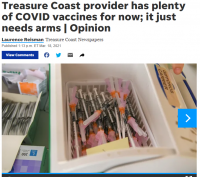 Visit https://www.tcpalm.com/ to read more.
March 18- April 8, 2021
Quit Your Way with Quite Now Smoking Now classes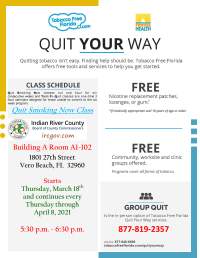 Quitting tobacco isn't easy. Finding help should be. Tobacco Free Florida offers free tools and services to help you get started.
FREE Quit Smoking Now Classes are available March 18 - April 8, 2021.
Call 877-848-6696 or visit https://tobaccofreeflorida.com/how-to-quit-tobacco/smoking-cessation-programs/ for more information.
March 9, 2021
Random Act of Kindness - We All Need Support From Others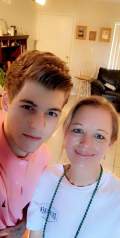 Sometimes you find yourself in the right place at the right time.
Patricia and her son Sebastien arrived at Treasure Coast Community Health (TCCH) Fellsmere dental location as a walk-in emergency to fix his broken molar. While checking in Sebastien, Patricia overheard another mother in distress over her insurance not verifying the child on the policy. The mother could not afford to self-pay for her daughter's appointment, so without hesitating, Patricia extended a random act of kindness and paid the fee. "I immediately felt inclined to offer my help because I could see that this girl's mother was concerned about her child's well-being, but felt unable to get her seen without the help of her insurance."
Patricia's offer was welcomed with grace and the unique strength to accept help for a child. "I believe that women really need to remain united as fellow nurturers and we should help each other at any time and in any way we are able. We all need support from each other."
Ultimately, the insurance issued was resolved and the company did in fact, cover the child. Patricia was touched by the generosity of the mother as she quickly made sure the fee was refunded. After all, one good deed deserves another.
Patricia regularly treats people as she'd like to be treated, and works random acts of kindness into her daily life by simply smiling at people or giving compliments. "I believe we all receive many more random acts of kindness than we may realize every day. There are people who work daily to keep our communities safe, who respond to emergencies, who teach our children. These people never ask for recognition, but continue to work every day to provide all of us with a better quality of life. I don't think we should take any of these things for granted." Patricia does hope she can inspire her sons to give when they can.

We're sure this won't be Patricia's last random act of kindness.
February 24, 2021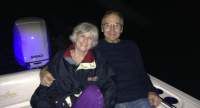 COVID-19 vaccine recipients hope for normal life
Kenneth and Susan Teague's story is not unique to most Americans age 65 and older in search of a COVID-19 vaccination.
Kenneth traveled the world as an Air Force security forces specialist, retiring at Patrick Air Force base. After retirement, Kenneth found a second career with Child Protective Services as a child protective investigator, where he met and then married, Susan. Kenneth investigated abuse reports and if necessary, Susan worked with the families to keep the children safe. "I didn't enjoy the work but I got great satisfaction out of the work and really helped people," Kenneth said.

Though his work with the Air Force and Child Protective Services, Kenneth has been busy protecting people his entire life, so when COVID hit, he and Susan's life changed dramatically.
"We've pretty much been hermits since April," Kenneth said of their current social situation. He and Susan rarely venture out of the house, missing family holidays, reunions, and funerals. On occasion, they see close friends under the scrutiny of distance and masks. When the time arrived to get their first COVID-19 vaccination on February 4 from Treasure Coast Community Health (TCCH), they did not hesitate.
"I want to live. I don't know how else to say it," Kenneth said, explaining why he and Susan were desperate to get their first vaccination. "We didn't know what to expect but the [vaccination] system was very well organized. We got through, start to finish, within one hour and that included the 15-minute [observation] time. That was amazing to me," Kenneth said. The couple experienced minor side effects other than a little arm pain at the injection site and a slight headache; the next day both were back to normal. "It was absolutely no different or worse than a routine flu shot," Kenneth said.
While they await their second shot, Kenneth is looking forward to a more ordinary future, "We're still going to use masks and social distance and be more cautious around crowds, but we're looking forward to more of a somewhat normal life."
Kenneth offers this advice to those still searching for a vaccine slot, "I found out when I was working that the best say to get things done is through networking." Use community groups on social media sites such as Facebook and Twitter, in addition to sharing information with your friends and neighbors.
TCCH is actively involved in COVID-19 vaccination events with Indian River County, Gifford Youth Achievement Center, United Against Poverty, and The Up Center, in addition to providing vaccinations to TCCH patients. As of February 8, 2021, TCCH has given 3,963 potentially life-saving vaccinations to Indian River County residents. TCCH extends our thanks to Indian River County for allowing us to the use the fairgrounds, Intergenerational Center, and Richard Bird South Regional Park, and Operation Hope in Fellsmere for allowing us to use their location.
February 19, 2021
Woolfork puts shot in arm in effort to persuade naysayers COVID-19 vaccine safe | Opinion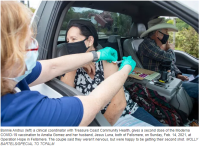 Visit https://www.tcpalm.com/ to read more.
February 17, 2021
TCCH Continues COVID-19 Vaccinations with High Praise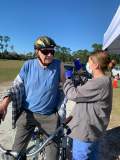 This past week Indian River County residents came by bicycle, bus, and semi-truck to get their COVID-19 vaccination. While a sense of urgency was in the air, so too was a sense of relief and gratitude. Andrea Brandes, TCCH director of nursing, screened patients for known allergies prior to getting their vaccination, "People loved that TCCH was able to give them the vaccine. They were appreciative and grateful and eager to feel safe again."
Anders Taranger, a retired Marine and Air Force veteran, rides his bike every day so he paired exercise with his shot. "I spent 26 years in the military and I've been vaccinated against everything. I was delighted to get the shot and thankful." Helen Cortez and Jennie Feathers arrived via the St. Francis Manor of Vero Beach bus. Cortez said, "I decided to have the shot because I don't want my family to worry about me since I live by myself. It will give them peace of mind that I'm safe." Feathers, who claimed mosquito bites felt worse than the shot, said, "I'm ecstatic [the vaccine] is available and that TCCH is doing this. You're wonderful."

Nekita Rolle, TCCH licensed practical nurse and clinical care coordinator, climbed a few steps to administered the vaccine to a semi-truck driver, "I thought it was cool because we've never seen a semi at a vaccination event so that was a little different but I didn't have a problem with it. He was very nice."
Snowballs –New Orleans Style owner Brad Cadiere even brought lunch for the crew. "I was by Gifford [the past] weekend and saw TCCH in motion and was impressed because I was watching other vaccinations on TV and it wasn't all good news. I was so impressed. They work hard. I know your job didn't just start that weekend."
Treasure Coast Community Health provided their patients with 462 first dose COVID-19 vaccinations on January 28 at the Intergenerational Center, 352 first doses on January 30 at Operation Hope, and 465 second doses on January 31 at the Indian River County fairgrounds. The staff is working overtime to keep Indian River County safe and healthy, fulfilling our mission of health care for all.
January 7, 2021
Frustration as thousands here seek scare vaccinations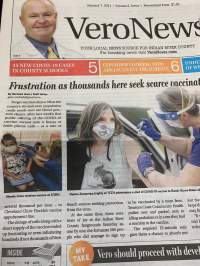 Visit http://veronews.com to read more.
January 8, 2021
Sielinski Commends TCCH and COVID-19 Vaccine Distribution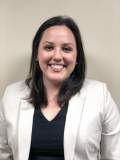 Through my work in the hospitality industry, I can feel the hopeful anticipation of Indian River County residents and visitors receiving a life-saving vaccine. While some are still weighing their options, I am looking forward to seeing the effectiveness of this vaccine and know that brighter days are ahead.
Part of my optimism comes from the professionalism the Treasure Coast Community Health (TCCH) team exhibited with protestors outside of the Indian River County fairgrounds during the January 2 COVID-19 vaccinations. Their performance was TOP NOTCH! Despite the protests, staff and those in line continued in a safe and orderly manner.
The amazing public comments, in the January 7 TC Palm article by Laurence Reisman, was exactly what TCCH deserves! The team members of TCCH deserve high praise for all the hard work performed on a daily basis, so to receive this admiration during the pandemic is beyond words.
This commitment to the health of the community is why I dedicate so much of my time serving as a TCCH Board Member. The qualities the TCCH team has been exhibiting since March of last year is a unique selflessness. I am so incredibly proud to serve as a Board Member and excited to see what the future holds for TCCH. This group of individuals has my sincerest gratitude and admiration.
Elisa Sielinski
Treasure Coast Community Health Board Member
December 24, 2020
John's Island Community Service League donates to TCCH Women's Health Fund
John's Island Community Service League (JICSL) is a non-profit, member driven organization primarily involved in raising funds for operating expenses of charitable agencies in Indian River County concerned with the health, education, and human services issues that affect women, children, and families in need. They carefully vet the finances of all agencies that apply.
JICSL has graciously benefited the TCCH Women's Health Fund with $195,000 since 2013. The grants provide free or low cost mammograms and cervical cancer screenings for women at or below 200% of the Federal Poverty Level; 250 mammograms and cervical screenings were provided in 2020.
"Our members are parents and grandparents, and understand mothers will often forego their own health and wellness before their kids. We were troubled last year when, at a site visit, we learned the grant funding runs out before the end of the year," explains Sarah Jane Moore, JICSL Co-Chair.
Moore is proud to be part of the JISCL because, "It's a pleasure to be involved and meet so many amazing, talented, creative, and experienced people within the board, partners, volunteers, and organizations we fund."
December 24, 2020
John's Island Foundation Grants Funds for Pigg-O-Stat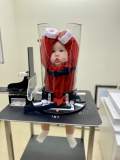 Part of a $25,000 grant from John's Island Foundation* helped Treasure Coast Community Health purchase two pediatric immobilizers for x-rays, known as a Pigg-O- StatTM, for evaluation of medical issues.
This all-in-one pediatric immobilizer safely positions infants and children for a clearer x-ray without complications. Less technical difficulties means fewer retakes and less exposure to radiation. The Pigg-O-Stat also relieves x-ray technicians from immobilizing a child themselves. This technology helps fill TCCH's vision to provide patient centered care in a technologically advanced and compassionate environment.
December 23, 2020
TCCH partners with Sea Tow Sebastian for Local Food Drive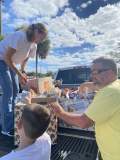 When the Sea Tow corporate offices suggested a toy or food drive, John and Amy Donaldson, owners of Sea Tow Sebastian, knew exactly which option to choose.
For the past seven years, the Donaldson's have organized the Stuff A Boat Food Drive in support of the Roseland Ecumenical Food Pantry located in the Roseland United Methodist Church. The Donaldson's chose this food pantry because their son attended preschool at the church. Amy explained their family developed a very close relationship with the school and food bank, "There were times I walked into the food pantry and there was no food. It was heart wrenching."
Collaborating with Treasure Coast Community Health and Treasure Coast Marina, the Donaldsons collected 800+ pounds of food this year that will go toward providing more than 25,000 meals to Treasure Coast families.
Treasure Coast Community Health employees donated food from their eight Indian River County locations, and Treasure Coast Marina held a Christmas party for children with a food donation or unwrapped gift as an entry fee. Both groups have happily contributed to the Stuff A Boat Food Drive for multiple years.
These three organizations have developed their own close relationship through feeding individuals in need and showing the true meaning of holiday spirit.
December 9, 2020
The Great Duck Derby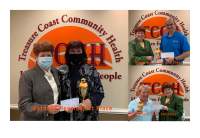 TCCH has held the family-centered "The Great Duck Derby' at Capt Hirams since 2013. Uncertainty about group gatherings, even outside, coupled with determination to continue tradition, led to more TCCH creativity.
The Great Duck Derby was held as a virtual 2020 event on Facebook Live. Adoptions were down with many of our business partners struggling to stay open. However, individual community members came through and showed great support under the circumstances. We gained new friends in the Vero Beach Life Guard Association and others who adopted ducks for the first time, including some of our winners.
The best thing about our 2020 "The Great Duck Derby" winners is they kept giving back! Not only did they adopt ducks, but first place winner Kathryn Hensley and second place winner Steve Schwartz gave their winnings back to TCCH, and third place winner Kathy Faux is sharing with a friend. Our hearts are full.
What TCCH does in providing health care for those that are most in need is near and dear to my heart. It's the right thing to do. — Hensley
I bought my ticket because I wanted to support TCCH. Their mission is so important in helping residents of our community get and stay healthy. —Schwartz
Adopting a duck was a cute idea and a nice way to support a local organization. — Faux
Visit www.TheGreatDuckDerby.com to adopt your duck online!
November 16, 2020
Sobia Khawaja, MD earned Florida State University College of Medicine Guardian of the Mission Award

Vero Beach, Florida – November 16, 2020 – Sobia Khawaja, MD, a board-certified pediatric physician with Treasure Coast Community Health, earned the 2020 Florida State University (FSU) College of Medicine Guardian of the Mission Community Faculty Award.
Sandy Stevens, MBA, FSU Student Support Coordinator, presented Khawaja with the award in recognition of outstanding service in furthering FSU College of Medicine's mission to educate and develop exemplary physicians who practice patient-centered health care, discover and advance knowledge, and are responsible to community needs, especially through service to elder, rural, minority, and underserved populations.
Khawaja humbly accepted the award, saying, "I have always enjoyed academic medicine and love training the next generation of physicians. The goal is for students to go out and serve underserved and rural communities."
For 11 years, Khawaja has improved health care for children and families in Indian River County and cultivated future physicians. Her positive impact in eliminating health care disparities in her community while instilling these values in her medical students is immeasurable.
The FSU College of Medicine mission statement closely resembles that of TCCH's mission to provide integrated and comprehensive medical, dental, mental health, and substance abuse services to all people. Additional services that remove barriers to care include prescription assistance, translation services, social service referrals for food and housing, Medicaid eligibility and enrollment, and assistance understanding the Federal Health Insurance Marketplace.
March 2, 2019
Motorcycle Rally: Kruise for Kids Poker Run
TCCH Oslo Center
9:00 am Registration, 10:00 am Stands Up
Grab your bike and "kruise" around Indian River County and stop at some local hotspots along the way! Try your hand at a round of poker or enter a raffle for a chance to win a 2003 Yamaha R1, valued over $7,500!
Entry fee:
$20 for Driver
$10 per Passenger
Register: 772-571-1986 or dbartholomew@tcchinc.org
August 17, 2019
Motorcycle Rally benefiting Veterans & First Responders with PTSD
More information: 772-571-1986 or dbartholomew@tcchinc.org
September 28, 2019
Anniversary Classic Golf Tournament
Hawk's Nest Golf Club
8:30 am Shotgun Start
Treasure Coast Community Health, Inc. (TCCH) invites you to join us in celebrating 26 years of service to Indian River County with our Anniversary Classic Golf Tournament. Enjoy a day of golf, fun and prizes - all for a good cause!
$130 per player
$500 per foursome
Contact 772-571-1986 or dbartholomew@tcchinc.org for more information.
Sponsorship opportunities are available if you are unable to attend but would like to support the work of TCCH!
October 20, 2019
The Great Duck Derby
Capt Hiram's SandBar
12:00 pm
On Sunday October 20, 2019 5,000 rubber ducks will race towards shore to the sandy beach at Capt Hiram's. If you are the adoptive parent of the first, second, or third place duck, you could win cash prizes! The grand prize is $1,000!
Visit www.TheGreatDuckDerby.com to adopt your duck online!
(Link may not be accessible for the visually impaired)